Zipp 303 Firecrest CCL Review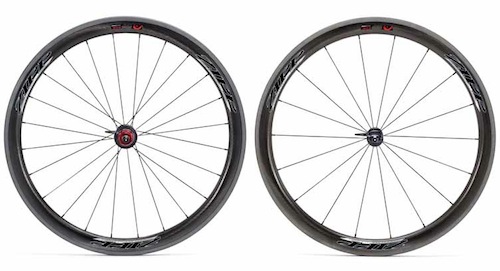 Without a doubt, the 303 Firecrest wheelset is the best all-rounder out of all the the Zipp wheels. Not only is it light but it is also strong and stands up well against blustery weather.
This new version has built upon the success of the previous 303, which was the most successful wheel in Zipp's product range, with the wheels having been ridden in a Tour de France victory, as well as being involved in other race wins too. Zipp have claimed that the new 303 model is even quicker and will have better handling too, due to the use of the Firecrest principles in clincher form. The wheels weigh in at 1,579g a pair and although you will be able to find standard road sets that are lighter, you will not be able to find some which have the 303 Firecrest's aerodynamics.
A more rounded tyre profile is created through the wider tyre bed of the Firecrest rim shape, which matches the carbons rim's spoke bed curve. This is impressive because it means the aerodynamics are a lot more balanced. Tests have shown that these wheels stand up impressively to the effects of the wind, for instance you'll find that the front wheel is extremely resistant in blustery conditions. You may perhaps be able to notice a slight pressure on the rim when there is a powerful side wind but as opposed to feeling a fierce shove, as you might do with standard wheels, with the 303 Firecrest wheelset it will be more like a mild push.
Sidewalls can be subject to intense distortions after coming into contact with potholes or after high-speed cornering but with the new 303, the widening of the tyre bed has meant that the sidewalls are less susceptible to this, which leads to Zipp's claim that this results in a reduction of pinch flats, a claim that has, so far, proved true in testing.
In terms of what else has been updated from the previous model, in addition to the rims, the 88/188 hub has also undergone some changes. It is now lighter than before and the 188 rear has been entirely transformed; less stress is now put on the spokes as the non-drive flange has been canted by 8 degrees, whilst they have spaced the non-drive-side bearing out by 7.5mm in order to increase stiffness. One thing to note is that after we had done a couple of rides, clocking a few hundred miles, we had to tighten the hubs, so it is recommended that you check the hubs after doing a few long outings.
Like This?