Bike Wheel Buying Guide
There are many different technical aspects to consider when purchasing a wheelset. Below is a few of the different aspects to consider when purchasing your new wheels. This useful guide will ensure that whether you are upgrading wheels for hill climbing efficiency, touring Europe on an epic adventure, competing in a gruelling triathlon or a weekend sportive racing you will get the perfect wheels.
Just A Replacement
All of the points below are geared towards riders who are 'into' cycling, but what if you broke a wheel and just want to replace it. Cost is probably your most important factor as you just want to fix the problem and get the bike up and running without a huge amount of hassle and cost. The cheapest replacement wheel would be from Halfords, but the cheapest branded road wheel would be something like the Shimano R500 or the Mavic Ksyrium/Aksium, which come in way under £100. Another alternative is pop down to your local bike shop and see if they have any offers of 2010, 2009 or 2008 wheels.
The Weight Of Your Wheelset
The weight of the wheels is a very important factor for most cyclists and if the wheels are excessively heavy it is often the main reason why cyclists upgrade to a newer, lighter version. Although, standard issue wheels which come with all new bikes are good basic wheels, these standard wheels are often not suitable for particular areas of competitive cycling and by upgrading to more specialised wheels it will improve your competitive cycling performance. The first new, specialised wheelset you purchase for your bike will dramatically lighten the overall weight and feel of your bike. Additionally, the first set which you purchase will most likely be the lightest your bike will ever weigh as reducing the weight of your bike even further can be extremely expensive. For example, most mid range wheelsets, such as the Fulcrum Racing Red Metal or Pro-lite Como Wheelsets feature new, weight saving designs. It becomes increasingly difficult and expensive to lose additional weight whilst maintaining optimum strength, which is why some wheelsets costs as much as a second hand car.
The Profile Of A Wheel
The type of wheel profile you choose depends strongly on the type of cycling you do. There are a number of advantages to choosing higher profile rims or aero rims; the first is that this rim profile is aerodynamic. Standard wheel rim depths feature spokes which create a considerable amount of turbulence within the air flow, causing resistance when riding the bike. This resistance causes the bike to handle poorly and limits the speed the bike can reach. Higher profile rims feature aero spokes that are smoother and more solid, which helps to eliminate or reduce the amount of air turbulence. The second advantage of Aero wheels is that they are considerably more rigid. The stiffness of the wheels guarantees that they don't flex under extreme pedalling pressure and effectively transfers energy. Higher profile rims are a great choice for certain types of cycling, in order to decide whether they would be beneficial to you, it is important to consider certain aspects such as the length of your ride, comfort, stops and starts and also how responsive your wheels need to be.
A Wheel's Strength And Rigidity
All cyclists want a wheelset that is extremely strong and durable and is able to easily withstand road irregularities such as cracks in the road, holes and sunken drain covers; however, in order to offer this type of resilience the wheel designs are often a little heavier. When choosing wheels many cyclists have to compromise between strength and weight. Few wheelsets possess the perfect equilibrium of weight and strength and the wheelset which offers both can be very expensive due to the time and research required by a manufacturer to effectively create such as wheelset. Often carbon constructions offer the best equilibrium, especially for competitive cyclists, two of the best performing wheelsets and popular amongst pro's are the Campagnolo Zonda or the Zipp 404. While a large number of cyclists want wheelsets that are strong, the level of rigidity depends on the wheels use and how reactive the wheels need to be. Rigid wheels are a must for most road cyclists, the stiffness of the wheel guarantees that they respond quickly and are able to accelerate excellently. However, the rigidity of the wheel means that they can be an uncomfortable choice, especially for cyclists who may be riding in the saddle for a number of hours. Triathlon riders need more forgiving, comfortable wheels compared to time trail riders who need performance enhancing rigidity in order to accelerate and maintain speed.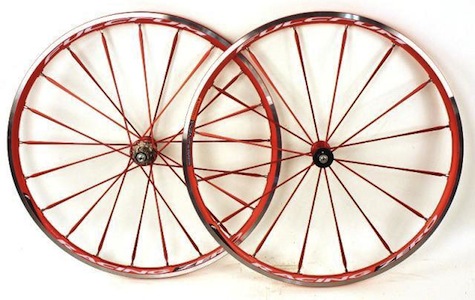 Road Racing and Triathlon Bike Wheels
There are certain factors to consider when choosing wheels for road racing. The first is weight, the lower weight wheelsets are ideal for long distance road racing. The lighter weight ensures that cyclists can maintain a high speed for a longer amount of time, are capable of reaching higher speeds and can effectively climb steep inclines; remember that wheels spin creating a centripetal force, meaning that the weight is thrown in a circular motion, the lighter the wheel the less friction and energy used. The second is the aerodynamics of a wheel. Aerodynamic qualities are very important especially during flat competitive racing. High profile rims are not the best choice; instead the aero spoke design is crucial. The high profile rims rigidity can often be a little uncomfortable over long distance racing, which leads a large number of cyclists choosing the Fulcrum Racing 1 wheelset or the Rolf Prima Vigor SL wheelset, these are both lightweight and feature aero spoke designs.
Time Trial and Sprint Bike Wheels
These cycling events are very short compared to other events and require a cyclist to reach blistering speeds very quickly and maintain that high speed. The important factor to ensure is the wheels aerodynamic qualities. The aerodynamics of a wheel can reduce wind resistance so riders are able to reach high speeds quickly, with the least amount of effort required. The second important factor required of time trail and sprint wheels is rigidity. The stiffer they are the less energy is lost when pedalling; assuring that the rider can accelerate quickly. Higher profile wheels are often the best option, as they effectively contain both the rigidity and aerodynamic qualities required. Some of the best wheels which offer these qualities include the Zipp 808 and the Fast Forward Carbon Wheels.
Touring and Commuting Bike Wheels
Cyclists who tour and commute need a wheelset that is comfortable and reliable; often this is achieved by selecting wheels that are renowned for their strength. Unfortunately, in order to select wheels the offer a high level of strength means compromising the weight. Despite these wheels being slighter heavier, they will be more durable and flexible making them more comfortable for touring cyclists. Commuter cyclists may want to focus on wheels that are a little more rigid, if the distances are quite short, otherwise the ride can become uncomfortable. It is possible to find wheels that are lighter in weight but it is important not to sacrifice strength for a lower weight. Some example may include DT Swiss X 1800 and the Easton EA50.
Like This?