Reynolds Strike Review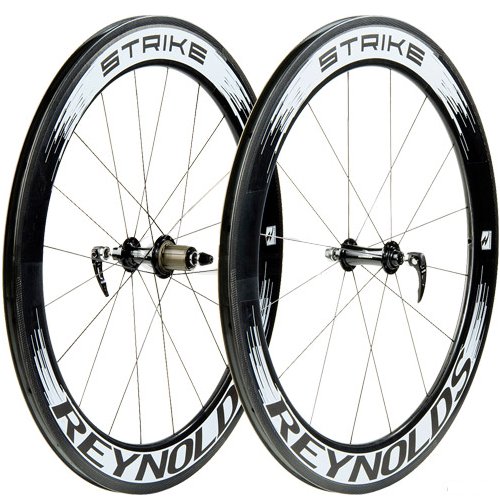 Reynolds have impressed us with their update on their Strike wheels by introducing composite technology that is cutting edge, whilst keeping the price of the wheelset affordable. The wheelset weighs in lighter than the majority of its close rivals, with the front weighing 788g and the back at 956g, resulting in faster acceleration, which is very noticeable.
The newer Strike wheels have more predictable breaking, which has been achieved by the wheels getting the thicker, increased heat resistant CTg break track, as well as the Cryo Blue brake pads that are used on all Reynolds' top of the range wheels. The breaking is still not as powerful as that seen with alloy but once heated, there is a lot less sudden snatch and overall you can feel reassured in your breaking whenever racing or training in hot or hilly terrain.
The Strikes have a low spoke count, which results in them having enough flex to ensure pad rub when climbing, however, although care should be taken in breezy conditions due to the flat sided 60mm profile and you have to adjust to the difference in feel of deep section wheels when you're getting up to speed, you'll find that on flatter ground, there is a clear anti-headwind and drag reduction boost.
The reliability of the Reynolds Strike wheelset is great and to add further incentive to buy, there is an accidental damage scheme, which always helps. They are a high quality item and all that Reynolds has included makes the price look like a real bargain. To gain further insight to see if the Reynolds Strike Road wheelset is all cracked up to be many of the Reynolds dealers are offering a trial run, so customers can review the wheels first hand before making a purchase.
Like This?