Pro-Lite Gavia Review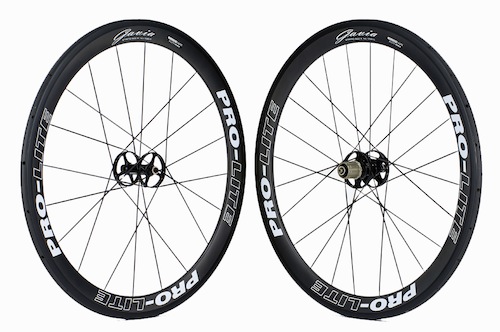 The Pro-Lite Gavia Wheelset most definitely stands out and you can be sure that you will get some admiring glances when out riding, whether you are road racing, doing a time trial or a triathlon. However, be warned that because they are so striking, you'll definitely need to be able to put in a lot of power to build up the speed that their great looks demand.
The rims on the Wheelset are 50 mm deep section carbon fibre and are for tubular tyres; the spokes are flat black blade spokes with CNC machined Bolanzo hubs. The hubs have been designed in order to have the spokes enter into the edge of a wide flange, instead of the more traditional method of entering through a hole in the side. The nipples are precisely countersunk into the wide carbon flange and this creates a smarter and smoother finish.
Openly brandished across the deep section rim are the manufacturer's decals, which in addition to the oversized flange hubs will most definitely attract some favourable glances from those you ride past. The hubs are exquisitely smooth, although this is true of many hubs across different brands and when examined by eye, they appear to be true, at first. However, when first examined on a wheel jig, the wheels were not actually perfectly true.
When fitting tubs on, you may find that the valves you have are much too short for the Gavia Wheelset, however, fortunately valve extensions are supplied. Also included with the Wheelset are brake blocks, front wheel, back wheel drive and non-drive side, spare spokes and a spoke key. You may also experience problems fitting the front wheel into your forks, so make sure you check the compatibility before making a purchase of this Gavia Wheelset.
The front wheel has 20 spokes, whereas the rear has 24 and they weigh in at 550g (front) and 850g (rear), which makes the pair extremely light amongst their market competitors and makes their strength even more impressive, as you can't really tell where they have made the weight savings. The cassette body is also nicely machined alloy with sealed EZO bearings (two in the front and four in the rear).
A noticeable negative with the Gavia Wheelset is that the ratchet and pawl system, within the freehub, had much too much slack in it and when riding hard up a steep hill, a harsh sounding noise arose from the 27 sprocket and didn't feel very good.
In terms of other performance, in addition to obvious strength, the Pro-Lite wheelset does stand up to market rivals for immediacy and they are also noticeably inflexible, however, you can't help but feel that you need a little bit more to make them stand out for something other than how they look, especially given the price that you pay for them.
The Gavias do not have the commonly used aluminium braking surface that is found on some carbon rims, instead they have been made with an almost invisible fibre coating at the braking surface and this is in order to protect the carbon strands from any possible abrasion as well as brake heat damage. The braking system is good, although it raises some questions and safety concerns in terms of prolonged breaking as the rim seemed to get very hot and then retain this heat for a lengthy period of time, which raises doubts about fitting carbon clincher wheels and using rim cement, which could melt.
To sum up, although this wheelset is extremely light, it is also deceptively strong, which is extremely impressive. However, it can be hard to get past some of the accompanying issues, such as the incompatibility of the front wheel by not fitting all forks and various trueing issues, that considering the price you pay, you don't really expect to occur.
Like This?