Fulcrum Racing 5 Clincher Review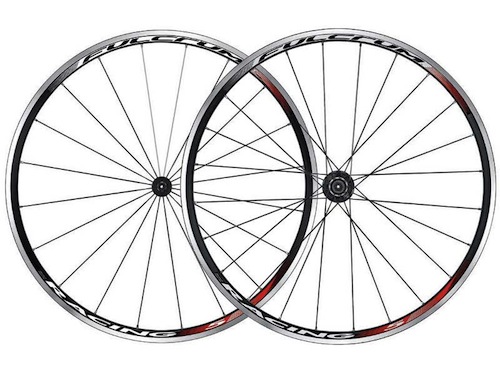 Fulcrum have done themselves proud with the Racing 5 Clincher Wheelset and have produced a wheelset that provides its users with a consistently solid performance that means the wheels are ideal for those who want to train every day.
Racing 5 sees the introduction of completely new oversized hubs, which are provided along with flanges for blade hammer-head spokes. The blade hammer-head spokes on the Wheelset are of the Aero type, which provides some excellent aerodynamic advantages and the front and rear wheels differ in their thickness, with the front wheel measuring 24 mm and the rear one at 27 mm.
Sealed high quality bearings ensures that smoothness is achieved and the new single piece body, which has integrated the freewheel body and pawl carrier into one element, also means that there has been a substantial decrease in weight.
Fulcrum have solved the issue of the traditional loss of rim tension that occurs when you push on the pedals and create rotational force on the sprocket that causes slackening on the freewheel spokes, which then results in unwelcome wheel flex and loss of energy. They have done this by integrating radial spoking for the frontend wheel and their patented Fulcrum 2:1 Two-to-One™ Spoke Ratio for the wheel at the rear.
This technology involves Fulcrum doubling the number of spokes within the critical zones. This means that there are now two spokes carrying out the function of one, resulting in limited slackening and torsion. Spoke tensions between drive and non-drive sides have also been made more balanced by using this system and the fatigue life of the rim hub and spokes is now lengthened.
As with other Fulcrum Wheelsets, the Racing 5 sees Dynamic Balance™ being used, where the weight of the gasket is balanced with an item on the exact opposite side that weighs a similar amount, which results in a wheel with perfectly balanced rotational dynamics. In the case of the Racing 5, thanks to two oversized spokes, the Dynamic Balance™ concept balances the concentration of the rim joint material during each wheel rotation.
The Racing 5 Wheels have a deeper upper bridge on the rim, which facilitates clincher tire fitting and the rim itself is medium-sectioned with a height of 24 mm and includes reinforcing eyelets for spokes and turned braking surfaces. Fulcrum have ensured that Racing 5 wheels have maximum compatibility with Campagnolo, Shimano and Sram drivetrains and with the front wheel weighing in at 775g and the rear at 985g, the total weight of the wheelset is pretty reasonable too.
So, the Racing 5 wheels, with their strength and consistently high quality performance, as well as their attractive design will definitely meet the expectations of cyclists who are looking for a mid-range wheelset that they can use on a daily basis and purchase at an affordable price.
Fulcrum Racing 5 Clincher
Like This?